Bloemfontein Wedding Decor and Florist Services

The wedding décor that you choose for your special day creates the atmosphere and sets the style. Wedding décor comprises everything from bouquets, boutonnieres, corsages and ceremony centerpieces, to chair covers, head table decorations, table linen, backdrops, ceiling canopies, mandaps and chuppas, wedding favors and invitations. Brides can take charge of all the wedding décor decisions themselves, but with so many little things to organise it makes sense to hire professional wedding decorators or use the services of a décor consultant to co-ordinate the fine details of the décor theme that you and your partner have chosen. Brides who decide to style the décor themselves can hire everything from silverware to linen, flower stands to carpets from specialist wedding décor hire services. The wedding flowers are the focal point of the wedding decor, both at the ceremony and at the reception afterwards. Flowers add a vital energy and colour to the decor, whether they are elaborate floral arrangements created by professional florists or informal posies of flowers from the gardens of friends and family. Popular wedding flowers include roses, irises, lilies, tulips and gardenias. Of course, you'll need to take into account flowering seasons and mix and match accordingly.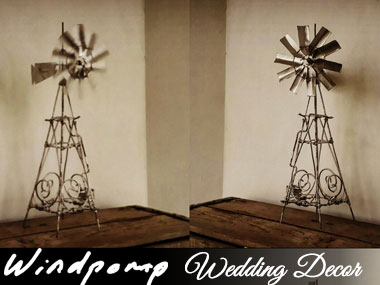 Windpompies - Jou eg Suid Afrikaanse Pompie!
SOUTH AFRICA

30cm high handmade windmills. Very popular as table decorations at weddings.
Telephone:
+27 72 973 0619
Cellphone:
+27 72 973 0619
Deecor rentals
CAPE TOWN

Wedding / Function hiring services. we spesialise in the following: furniture / tents / dancefloor / decor items
Telephone:
0725017928
Function and Wedding House
BLOEMFONTEIN

Bloemfontein Wedding and Function Decor Hiring House. Anything from candles, table runners, overlays, candleholders, lamps, cakestands, flowervases and various other decor items. We also do flowers and can setup your decor for you. Call us now!
Telephone:
051 447 7077
Cellphone:
082 741 6049
Functions Inc
BLOEMFONTEIN

Functions Inc. draping brings class and style to your home or venue using the latest trends to beautify your setting. Catering to your specific needs in fabric selection and lighting to make your event unforgettable. ​
Telephone:
071 675 3036
Gerbri van Heerden
BLOEMFONTEIN

Floral Designing & Bouquets
Telephone:
083 4447965
Cellphone:
083 4447965
Glamor Light Candle Hire
LANGENHOVENPARK - BLOEMFONTEIN

Your candle & flower arrangement Specialists. 18 Dot Serfontein Str Langenhovenpark
Telephone:
083 727 2704
Glamouratti
BLOEMFONTEIN

Benodig u iets unieks en anders vir u trou décor? Iets spesiaals wat kan dien as décor en as geskenk vir u gaste, kom gerus na Glamouratti. Ons maak water, gel, tealight, gedenk kerse asook was kerse vir enige geleentheid. Enige kleur in jou keuse.
Telephone:
072 409 6727
Green Finger
BLOEMFONTEIN

Telephone:
051 - 4511 835
Cellphone:
083 4447965
Iewers Nice - Florist
BLOEMFONTEIN

28 Reid St, Westdene, Bloemfontein
Telephone:
051 4482600
Iiola
BLOEMFONTEIN

Bloemfontein Wedding Flower Specialists Iiola's approach is simple to create inspired, contemporary floral designs that stand out from the crowd. Whatever the budget - lavish or low key - iiola works closely with clients to make their dreams reality
Telephone:
082 850 3535
Cellphone:
082 925 4577
Kreatiwiteitspraktisyn
BLOEMFONTEIN

For something different - we specialize wedding decor in and around Bloemfontein's area
Telephone:
051 446 1232
Cellphone:
083 264 2773
Liatha Events & Decor
BLOEMFONTEIN

Bloemfontein Wedding Decor Specialist
Telephone:
073 1536 780
Cellphone:
073 1536 780
Lilly Pond Florist
BLOEMFONTEIN

Florist in Bloemfontein specializing in wedding flowers and bouqets.
Telephone:
082 679 8740
Living flowers and Decor
BLOEMFONTEIN

Living flowers and Decor is a well established business for the past 12 years. Living flowers and Decor specialise in flowers and arrangements for all events which includes wedding functions and services, conferences, any celebrations and parties.
Telephone:
082 554 7119
Cellphone:
082 554 7119
Marelize Floral Design
BLOEMFONTEIN

Bloemfontein Wedding Flower Specialists - we also do decorhiring, functions, cakes and many more. Get the most beautiful wedding bouquet in Bloemfontein - call now to avoid disappointment
Telephone:
051 436 4783
Cellphone:
082 7777 699
Mimosa Blomme
BLOEMFONTEIN

Bloemgate Ctr, 81 Zastron St, City Centre, Bloemfontein
Telephone:
051 444 6808
Pacofs
BLOEMFONTEIN

For you all inclusive costumes, decor items and many more other services - look no further. Pacofs also have functions, catering, props, stagesound and lightning services. There is a few varieties of venues you can choose from.
Telephone:
051 - 447 7771
Palesa Decor and Landscaping
BLOEMFONTEIN

Draping for corporate & wedding functions. Flower Arrangements
Telephone:
082 874 4522
Cellphone:
082 874 4522
Party Creations
BLOEMFONTEIN

45 Brill straat, Westdene
Telephone:
082 856 9335
Cellphone:
082 856 9335
Party Design - Events design and decor
BLOEMFONTEIN

Party Design Free State designs and decorates any type of event whether it is a wedding, corporate function, birthday or just a private gathering. We are situated in 25 Orange Street, Hilton, Bloemfontein. We always strive to do our best.
Telephone:
0514302910
Pixie Box
BLOEMFONTEIN

Georges flowers for the Bride and her attendants aswell as stunning dispalys in the church and wedding venue.
Telephone:
078 1333 870
Cellphone:
078 1333 870
Ronelle Janse van Rensburg
BLOEMFONTEIN

Wedding flowers service in Bloemfontein
Telephone:
051 436 6930
Cellphone:
083 449 4675
Sekretarispan Flower Farm
BLOEMFONTEIN

We grow Gerbera's (Barbeton Daisies) and Lisianthus (Moonflowers - Desertrose). We supply to florist in Bloemfontein and for people doing functions and to the public. We sell every saturday at the Langenhoven Park Boeremark and Musgrave Park Market
Telephone:
051 443 8677
Tash of Style
BLOEMFONTEIN

Tash of Style is an owner driven wedding decor and function hiring business. Our products include: Linen(tablecloths/runners/chaircovers/napkins etc), cutlery/crockery, glassware, dcor, tables & chairs. We guarantee high quality products and service.
Telephone:
0825569017
The Party Warehouse
HENRY STREET, BLOEMFONTEIN

Everything Done Events: Function Hire & Design, Decor, Flowers, Catering & Event Management
Telephone:
051 430 6590
Trousseau Box
BLOEMFONTEIN

We offer a unique service speaking of elegance, creativity and glamour - a certain unforgettable experience!
Telephone:
0828962937
Ultimate Candles & Party
BLOEMFONTEIN

Hiring - Draping, Candles & Candleholders in Bloemfontein
Telephone:
051 430 0929
Cellphone:
082 783 3384
Unity Sand Kits
PRETORIA

The centerpiece of the unity sand ceremony is the unity sand ceremony vase set. You will treasure the unity vases throughout the years of your married life. Select the right one, and it will become a memento as important to you as your wedding photos.
Telephone:
0129933960
Vergeet My Nie Bloemiste
BLOEMFONTEIN

64 2 Av, Westdene, Bloemfontein
Telephone:
051 4477456
Waldorfs Flowers
SHOWGROUNDS BLOEMFONTEIN

Wholesale Flowers and Flower Accessories in Bloemfontein
Telephone:
051 448 6736
World of Balloons
BLOEMFONTEIN

For the installation and providing of all different types of balloons. From helium to all shapes and sizes
Telephone:
082 577 7345
Alive and Divine - flowers and gifts
BRANDWAG - BLOEMFONTEIN

A friendly look, a kindly smile, one good act and life is worthwhile. We specialice in the following: Weddings, Bridal Bouguets, Funerals, Fresh Flowers, Personalised Hampers, Coach-House Nougat, Adorable collectibles, Specialized Gifts
Telephone:
051 444 1423
Anitz Florist
BLOEMFONTEIN

Florist at Preller Plain, Bloemfontein. We specialize in wedding flowers, bouguets and flower decorations, ribbons, flower holders and pots and many more. Come see us today for a free quote.
Telephone:
051 4363525
Balloon Decor
BLOEMFONTEIN

Decor includes arches, ceiling decor, table decor, loose helium balloons, and many more. Balloons are blown up on site or can be delivered.
Telephone:
0833814882
Cellphone:
0833814882
Bloemsaailinge
BLOEMFONTEIN

If you want to have live plants or need assistant in the outlay
Telephone:
082 492 1808
Cellphone:
073 1536 780
Candle Hire and Decorating
BLOEMFONTEIN

Candle Hire & Decorating
Telephone:
051 430 6554
Cellphone:
082 565 7982
Decor4U
BLOEMFONTEIN

Bloemfontein Wedding Flowers - we also specialize in baby showers, kitchen teas, funeral flowers and many more. Call now for a qood quote to avoid disappointment
Telephone:
082 828 8156